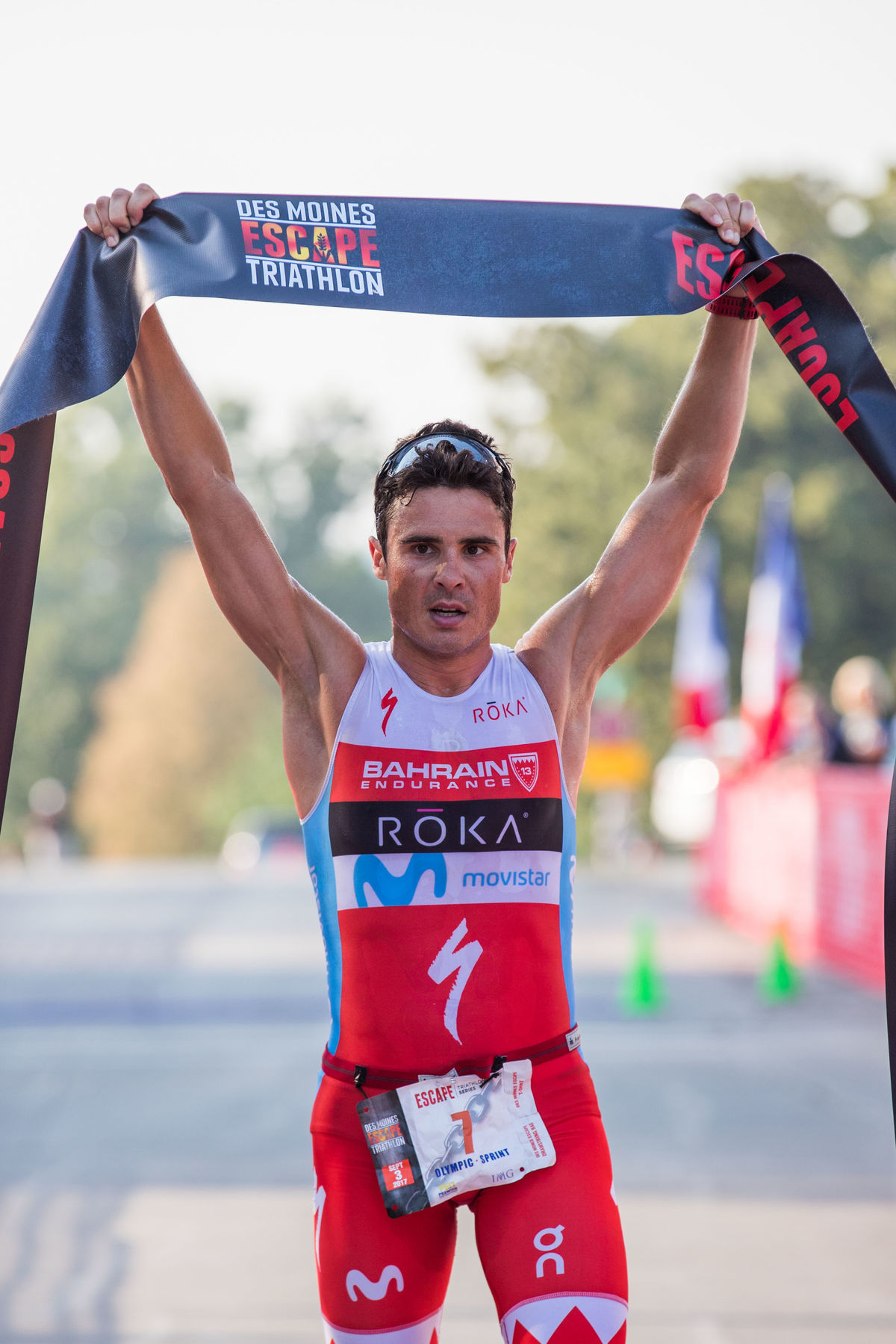 September 06, 2017
Olympian Javier Gomez Wins 2017 Des Moines Escape Triathlon
Lauren Goss from Boulder, CO Takes First Place in the Women's Pro Division

DES MOINES, Iowa – (September 3, 2017) On Sunday, September 3, nearly 1,000 amateur and professional athletes took to the water and streets of Des Moines to compete in the 12th annual Des Moines Escape Triathlon™. Five-time ITU World Champion and Olympian Javier Gomez from Pontevedra, Spain and Lauren Goss from Boulder, Colorado, took first place honors in the men and women's pro division. Formerly the Hy-Vee Triathlon, athletes endured a 1.5k swim in Gray's Lake in 79-degree water; a 40k bike ride through historic Des Moines; and a 10k run that finished at the Iowa State Capitol.
Top Finishers:
First Place:       Javier Gomez, Pontevedra, Spain 1:42:38
Lauren Goss, Boulder, CO 1:55:32
Second Place: Jason West, Boulder CO, 1:43:25
                           Sarah Haskins, Eureka, MO 1:58:00
Third Place:      Rodolphe Von Berg, Boulder, CO 1:44:39  
                           Erin Storie, Colorado Springs, CO 1:59:34
"I love racing in Des Moines, everyone is so kind here," said 2017 Des Moines Escape Triathlon Winner Javier Gomez. "At the start of the bike course, I was struggling to find my rhythm and pace, I really had to push hard to win this one. I have great memories racing here and am excited to add this as my third win in Des Moines.
This was my third time racing in Des Moines, it's a very special place to me, the fans are awesome," said 2017 Des Moines Escape Triathlon Champion Lauren Goss. "Today was a big training block for me after not racing in six weeks. I went in feeling confident but also being conservative on the swim and bike, knowing the run was my strong suit. I am thrilled to take home my first Des Moines win today."
New this year, the Des Moines Escape Triathlon is serving as a qualifier for the 2018 Escape from Alcatraz Triathlon. The top three finishers per age group will receive coveted entry slots into the 2018 Escape from Alcatraz Triathlon. First place finishers in each age group will win a complimentary race entry.
The Des Moines Escape Triathlon is owned and produced by Premier Event Management. For more information and full race results, visit www.EscapeSeriesTri.com/Des-Moines-Escape or follow on www.facebook.com/EscapeSeriesTri, @EscapeSeriesTri on Twitter and @EscapeSeriesTri on Instagram.
About Premier Event Management
Premier Event Management (PEM) is America's preeminent organizer and race director for multi-sport and endurance racing events from coast to coast. Established in 1993, PEM owns and manages more than 25 of the most widely recognized triathlon, running, cycling and endurance events in the world. In addition to the production of wholly owned events, New Orleans-based PEM also provides all services required for new or established events, from consulting services to complete turnkey productions.
Contact:
DeeDee Taft, deedee@spinpr.com, cell 415/515-1229
Leah Scherschel, leah@spinpr.com, cell 775/400-6789
Spin Communications
415/380-8390