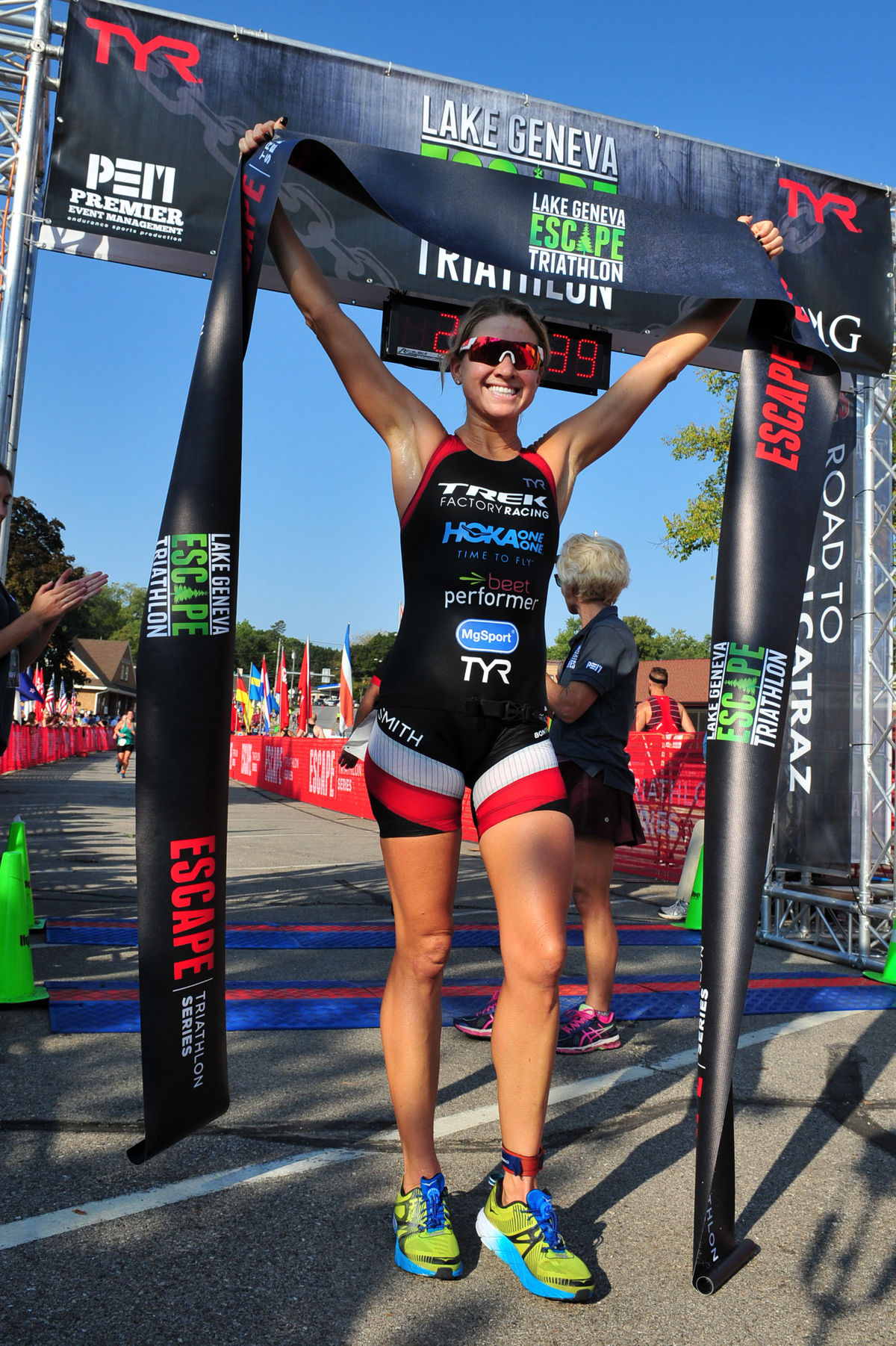 September 24, 2017
Cameron Dye and Lauren Goss Win 2017 Lake Geneva Escape Triathlon
First Time Pro Field Participated for $20,000 Prize Purse
LAKE GENEVA, Wis. – (September 23, 2017) On Sunday, September 23, hundreds of amateur and professional triathletes took over the scenic streets and waters of Williams Bay to compete in the 2017 Lake Geneva Escape Triathlon. Cameron Dye and Lauren Goss, both from Boulder, CO, took first place honors in the men's and women's pro divisions. This was the first time the Lake Geneva Escape Triathlon had ever hosted a field of professional triathletes and a prize purse of $20,000.
Top Finishers:
First Place:       Cameron Dye, Boulder, CO 1:51:26
Lauren Goss, Boulder, CO 2:04:30
Second Place: Rodolphe Von Berg, CO 1:52:57
                           Sarah Haskins, Eureka, MO 2:07:47
Third Place:      Jason West, Boulder, CO 1:53:35
Kristen Marchant Newmarket, ON 2:11:28
"It's always nice to come up with a win after struggling in Beijing a couple of weeks ago," said 2017 Lake Geneva Escape Triathlon Champion Cameron Dye. "The course was great – a fast run, challenging bike and constant up and down on the run. The Escape Series has been a fantastic series, and I'm excited to see where it goes next year.
Athletes started the race 1,500-meter swim in Williams Bay; a 26-mile bike ride along the rolling hills of the lakeside village; and a memorable 6.2-mile run past the Yerkes Observatory to the finish line located in Edgewater Park.
"This was one of my favorite Olympic distance races," said 2017 Lake Geneva Escape Triathlon Champion Lauren Goss. "The run reminded me of the beginning of the Escape from Alcatraz Triathlon run, it was really tough. I've loved the Escape Series. The locations are awesome and it's good to have competitive Olympic distances races on the schedule. I'm already looking forward to next year!"
New this year, the Lake Geneva Escape Triathlon will serve as a qualifying race for the 2018 Escape from Alcatraz Triathlon. The top three Olympic finishers per age group will receive coveted entry slots into the iconic San Francisco race. First place finishers in each age group will also win a complimentary race entry.
2017 Lake Geneva Escape Triathlon sponsors include TYR Sport, Trisports.com, Velofix, Fleet Feet Sports and Gatorade. The race is owned and produced by Premier Event Management. For additional information, visit www.escapeseriestri.com/lake-geneva-escape or follow on www.facebook.com/EscapeSeriesTri, @EscapeSeriesTri on Twitter and @EscapeSeriesTri on Instagram.
Contact:
DeeDee Taft, deedee@spinpr.com
Shelbi Okumura, shelbi@spinpr.com
Spin Communications
415/380-8390